Northwest Alpacas specializes in raising suri and huacaya alpacas for sale, and alpaca business plans for breeders and owners worldwide.
The World's Finest Alpaca Breeder
by Mike Safley, Northwest Alpacas — Alpaca Breeding Farm
Don Julio Barreda's mother, Dona Victona Aragon Barreda, bred alpacas prior to bringing Julio into the world. Julio felt the pulse of the alpaca as a young boy. He Iearned the art of breeding camelids and harvesting their fiber beginning at 13 years of age.
Today, Don Julio is one of the most important Peruvian alpaca ranchers. His ranch "Accoyo," an Indian word meaning "sandy ground," lies near the village of Macusani, 16,500 feet above sea level. National Geographic Magazine has called Macusani the world center for alpaca fiber production.
To understand the true history of the alpaca, one must look to Peru, where textiles have played an important part in the civilization of the high Andes since pre-lnca times. During the day of the Incan empire, alpaca husbandry was very carefully regulated by the "Camayocc," or alpaca professional. The spinning and weaving of alpaca garments was highly organized; only the Inca rulers and their court were privileged to wear alpaca.
Beginning in the 1970's, Alpaca breeding suffered in Peru, socialized land reforms adversely impacted the breeding of alpacas. The Shining Path or "Sendero Luminoso" terrorists wreaked havoc on the farms of the Altiplano. Don Julio in his role as a modern day "Camayocc" has perservered. He has managed to maintain his royal bloodlines (Plantel) through thick and thin. Today Don Julio shepherds about 2,000 head. Approximately 75% are huacaya and the balance are suri. The bloodlines of his "Plantel" herd date back to 1946.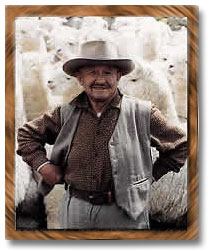 From the start, Don Julio has been known as an innovator. He was the first breeder to introduce fencing. Many in Peru thought him to be "loco," building fences, creating artificial boundaries on the almost unlimited terrain, but it wasn't long before the benefits of this radical concept became apparent. Not only could fenced plots support more animals by utilizing pasture rotation, but the alpaca were better nourished, had higher fertility rates, and lower cria mortality rates.
The benefit of fencing did not stop with better nutrition. This innovation allowed for the separate breeding of suri and huacaya. Llamas could not be crossbred with alpacas. Don Julio began to develop truly purebred alpacas of the highest quality.
Today, after many years of rigorous genetic selection, Barreda has redefined the alpaca. His ranch maintains two herds of huacaya. One herd produces a fine, but less dense fleece of 20 microns or less. The other herd produces a very dense fleece of up to 24 microns. Most of these alpaca produce over 10 pounds of fleece annually.
At 84 years of age, Don Julio's time is split between Macusani and Arequipa. He returns to the mountains every two months to spend time supervising his herd, thereby ensuring that his workers do the culling, breeding, feeding, mating, shearing, parturition, and weaning according to his exacting standards.
Even with all these accomplishments, he and his lovely wife, Antonieta de Barreda, have found time to rear four daughters and many grandchildren. Peru will remember Don Julio Barreda for many years to come. He has contributed to his country, his family and his Alpacas in a fashion that is admired by all who know him.

What has been accomplished at Don Julio's beloved "Accoyo" is known to every alpaca breeder in South America. He is truly first among his peers. Now pure Accoyo bloodstock is available to breeders in the United States. American breeders are beginning to appreciate why Don Julio Barreda is truly the world's finest Alpaca breeder.
"After more than five decades of breeding, I can identify some modest achievements. The Accoyo herd is uniform in all respects. I have been able to breed well-defined Alpaca phenotypes with an absence of atypical animals. There are no huarizos, suri huacayas or huayaca suris in my herd.

"The Accoyo production charts document a doubling of annual fleece yield per animal since 1946. During the same period, the herd's average body weight per animal has increased 25%. I have also created a second line of huayaca bloodstock which I call "select." This herd is being selected for fineness. I have great expectations for this project, and from time to time we end up with exceptional little cria.

"I attribute Accoyo's success at breeding alpacas with superior production qualities to the father's lineage. My machos were all bred and selected at Accoyo, and my herd has not suffered from the influence of sires with unknown fathers. I can truly say that the sires of Accoyo have been more than enough and I am proud of the results."

for more Articles, visit the Northwest Alpaca Library Archive