A view toward our Oregon farmland... Aragon Alpacas acknowledges that our farm sits on the traditional homelands of the Winefellly tribe of the Kalapuya peoples. We share this information out of respect for this Indigenous homeland and for the Kalapuya people who continue to live and thrive in what is now called the State of Oregon.


The 4 buildings toward the top are on our property: house, red garage/studio, small shed, and barn; the green structure and truck area are not. The forest 'behind' is actually across the road from our property.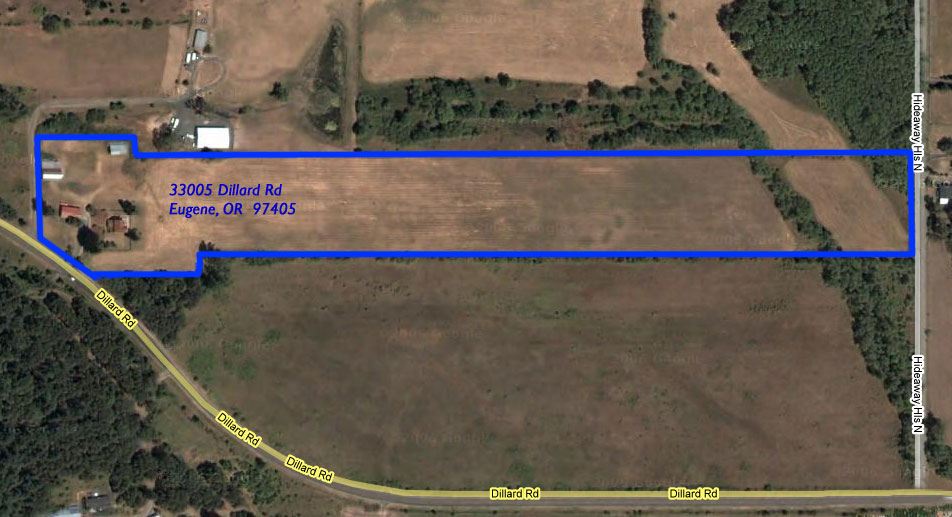 The house and barn are on the west end, as the hill begins to rise, offering lovely rural views that will remain unspoiled. Along the east end of the 17 acres, trees follow a seasonal creek. Most of the large pasture is planted in hay, while the vineyard, garden and greenhouse will be closer to the house.
| | |
| --- | --- |
| | |
| | |
The house and barn are 1890s-vintage and have been well-maintained. The red fence sets off the yard from the pasture areas, and the 2-room shed is in the distance. A few farm implements serve as lawn ornaments.

What a sturdy barn! We designed the fence layout for pens, and have much to learn about hay.

Cattle, sheep, pigs, and chickens have been raised on this farm by the previous owner, so she was delighted to know that livestock will continue to be part of its purpose.

The pond and trees are on the neighbor's property, providing nice views. The day we first saw the property, there were ~30 Canada geese enjoying the pond.

Our pasture...longer than it seems here. The seasonal creek is beyond the trees at the far end, where a local beekeeper will place some hives.